Welcome to Aquatis
An Uprising Leader in Minecraft Hosting, KVM & cPanel Website Hosting provider.
Developing Leader for Three 
Years
Aquatis is an uprising Leader in Minecraft Hosting industry. We strive to give our customers a unique hosting experience like no other host offers. We are always improving our host with constant updates to eventually be number one!
Pick a Service that Works for Your Business Model
We offer many services to different kinds of markets to satisify our customer needs.
Minecraft Hosting
Multicraft Control Panel

100 Gbps DDoS Protection

Unlimited Player Slots

Free Daemon Switcher

Unlimited MySQL Databases

Daily Backups
Website Hosting
cPanel Interface

Free DDoS Protection

Free SSL

Easy FTP Management

Daily/Weekly Backups

Built-in DNS Management
VPS Hosting
Virtualizor Panel

10 TB Bandwidth Limit

100 Gbps DDoS Protection

24/7 Serial Console Access

OS Re-Installer

Instant Upgradability
Features included with our Minecraft Hosting Services.
Unlike other Minecraft Hosting Company's, Aquatis provides a lot of beneficial features that make us unique from the competition. Listed to the right are some of our features!
Free Buycraft Trial
All Aquatis customers are given an opportunity to get a free 30-day Ultimate Buycraft Trial from us. Buycraft is the most popular webstore solution for Minecraft Servers. Buycraft has no limitations on how you'd like your webstore to look and function, you're sure to be up and running in no time. You even have the option to customize the HTML of your webstore for those who want to go one step further. Clicking the button below will redirect you to there website and give you the Free 30 Day Ultimate Trial!
AquatisManager Panel
AquatisManager is a custom developed interface free for all Minecraft Hosting customers. AquatisManager keeps track of your Servers TPS, CPU & RAM usage to ensure everything is stable. AquatisManager also allows clients to create multiple MySQL Databases unlike multicraft which only provides 1 per server. Additionally, customers can also change their server's location all done with a few clicks! Finally, customers can also get a built in guide in the Domain Center on how to point your domain to your server.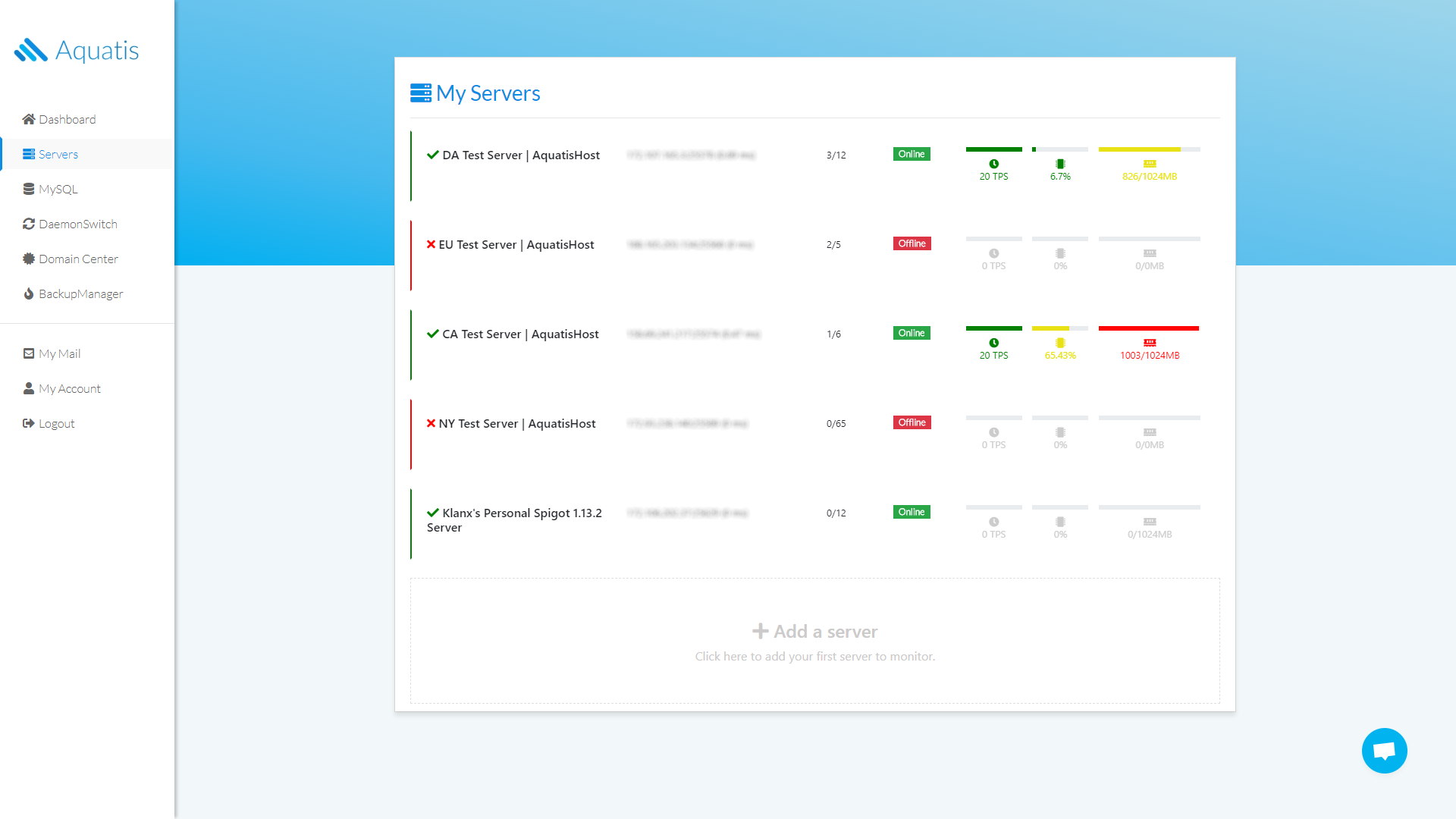 Thousands of Satisfied Customers
"Vouch! Recently ordered a server from them, and they have great support and powerful servers! 🙂
Support team is very friendly also."
"Vouch for Aquatis and Klanx, I have been using there servers for a bit now and they are so smooth. I purchased both Web and Server hosting and I see know problems what so ever. If a problem were to occur, the Aquatis team is right there to fix it!"
"Aquatis is a reliable hosting service I've been using for a few months now. They're able to maintain a great balance between service and features, as well as some of the best prices you can find. Highly recommended."
"I can vouch for them! One of the BEST hosting companies that I've seen in a long time! GREAT prices for the hardware that they provide, I use them to host my test servers. You can rely on them for your Minecraft server! The fact that there this cheap amazes me! Don't hesitate to work with these guys!"
"Been with the host for little time however they are amazing, I love how you can move your node on their manager panel and love the way you create the MySQL DB, would highly recommend to all!"
"Aquatis is one of the first companies that I have ever came across that cares about customer satisfaction. Klanx and the support team makes their products reliable, cheap, and easy. For all of my hosting needs, I will use Aquatis from now on."
Frequently Asked Questions
Frequently Asked Questions by our customers/community. We've build this little section down here to help customers with any questions.
I didn' t get an email with my Server Details?
Sadly, Mail hosts like Google/Yahoo & Hotmail still sometimes mark our email as spam. We'd recommend you check your spam inbox for any emails from us. If your having issues finding any emails, try to search for emails from [email protected] as that's where all of our alert emails are sent from.
My VPS server has been pending for an hour?
Sadly, SolusVM, the software developers who made the panel to control your VPS server, failed to make a proper working API. Usually, the Staff at Aquatis have to manually provision your server for you. If your server has been pending for more then 2 hours, contact our support team.
How long does it take for my Minecraft Server to provision?
Usually, as soon as you pay the invoice, our system will automatically provision your server and send you an email with your server details, this usually happens within 30 seconds. If the server is still pending 10 minutes after you paid it. There may have been an exception while making your server. We'd recommend you contact us to get it resolved.
How do I login to the Multicraft panel?
You can simply visit https://panel.aquatis.host and login with your details. If you just ordered the server and its your first time logging in, you have to go into your email and use the details found in it. The subject of the email should be AH | New Server Assigned.